Hearing Associates offers a number of sound amplification and accessory devices to assist with hearing.
Personal Sound Amplification Products (PSAPs) are products that amplify environmental sound in specific listening situations. They work similar to hearing aids in that they amplify sound and deliver the sound to the ear, but they are not intended as a treatment to hearing loss – as hearing aids are – because they don't meet the FDA's criteria of a medical device.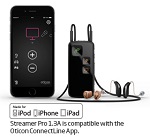 ConnectClip: Transforming your Opn hearing aids into a wireless headset, ConnectClip allows you to make and receive hands-free phone calls from smartphones. It also lets you listen to music from your electronic devices and use the remote microphone function to better hear speakers from a distance.
TV Adapter: This accessory allows you to stream TV directly to your hearing aids at the desired volume. The TV adapter, effective from a range of up to 45 feet, connects to most audio devices using the provided cables.
Phone Adapter 2.0: When paired with ConnectClip, this equipment turns a home analog landline phone into a wireless headset. Your Opn hearing aids serve as the headset, while the ConnectClip – attached near the collar – serves as a microphone.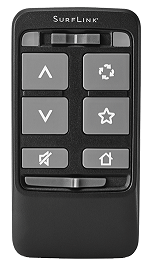 SurfLink Remote Microphone 2: This device streams audio directly to your Muse iQ, Muse, wireless SoundLens Synergy and Z Series hearing aids. The discreet microphone can be worn by a conversation partner to help in one-on-one conversations or with multiple speakers. Those with hearing loss can switch between modes to improve their listening experience regardless of the setting.
SurfLink Mini Mobile: This accessory allows users to connect Bluetooth-ready devices to their Muse iQ, Muse, wireless SoundLens Synergy iQ, wireless SoundLens Synergy and Z series hearing aids to stream phone calls. The SurfLink Mini Mobile is also compatible with the SurfLink Remote Microphone 2.
SurfLink Mobile 2: This do-everything device works as an assistive listening device, cell phone transmitter, media streamer and hearing aid remote. The SurfLink Mobile 2 turns Starkey hearing aids into both the phone microphone and receiver.
Starkey AMP: A personal audio amplifier is a good fit for some patients who are not ready for a hearing aid. After properly evaluating your hearing, patients can leave our office wearing an AMP after just one visit.
For more information on services available at Hearing Associates, contact one of our locations in Mason City, Iowa, Albert Lea, Minnesota and the surrounding areas.