Community Kitchen of North Iowa
November 11, 2016 – MASON CITY – Hearing Associates donated $13,800 to the Community Kitchen of North Iowa Wednesday evening.
"This week, we had the opportunity to give back to the community as a staff. We were humbled and blessed by the people we were able to serve at Community Kitchen for their supper meal," says Hearing Associates owner and audiologist, Stuart Trembath.
"Serving at Community Kitchen was a great experience," continues Mr. Trembath. "It felt even better that we were able to partner with our patients who purchased hearing instruments during the months of June, July and August. For each hearing aid purchased, we set aside a portion of the proceeds to help Community Kitchen."
Hearing Associates saw an influx in appointments during their charity drive, and noted that members of the community planned their hearing instrument purchases in the summertime to support Community Kitchen.
Eight members of the Hearing Associates staff, and Leigh Trembath, Mr. Trembath's spouse, volunteered at the event, who served supper from 4:00 to 6:00 pm. Before the meal, the team prepped all food that was donated that day. After, Mr. Trembath (right) handed a donation for $13,800 to Community Kitchen of North Iowa director, Amanda Ragan (left).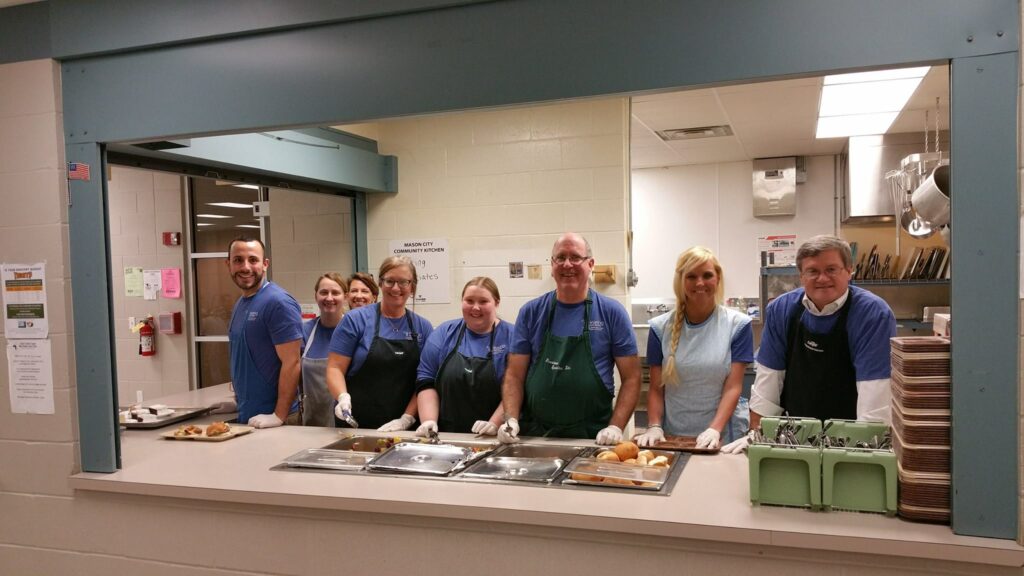 ---
Hawkeye Harvest Food Bank
December 9, 2016 – MASON CITY – Hearing Associates donated $7,450 to the Hawkeye Harvest Food Bank Thursday.
"Thanks to Hearing Associates and their clients, Hawkeye Harvest Food Bank received a check for $7,450.  That generosity and amount of the check just completely overwhelmed me," said Hawkeye Harvest Food Bank director, Ozzie Ohl.  "For an all-volunteer, nonprofit, a check in that amount is incredible. When you consider that our average donation is around seventy dollars, you can see just how much that means to our 114 volunteers and the 23,000 people we provide emergency food service to. This awesome donation will enable our all-volunteer food bank to purchase more than 50,000 pounds of food from the Food Bank of Iowa this next year."
---
About Community Kitchen of North Iowa
The Community Kitchen of North Iowa is an independent, nonprofit organization that serves the short- and long-term needs of hungry adults and children throughout North-Central Iowa. All meals are prepared by local volunteers, who are the real strength of Community Kitchen. These volunteers represent all levels of economic and social strata in the surrounding communities, and have sincere concern and caring for the clients of Community Kitchen. To volunteer at Community Kitchen, call Amanda Ragan at 641-424-2316.
About Hawkeye Harvest Food Bank
The Hawkeye Harvest Food Bank was organized in the fall of 1981 as a community project to meet a growing need for food in North Iowa. Hawkeye Harvest Food Bank provides emergency food for those in need who are referred. To volunteer at Hawkeye Harvest Food Bank, call 641-424-3073 or email hhfb50401@gmail.com.
About Hearing Associates
Hearing Associates, P.C. has been providing patients in Albert Lea, Minnesota, Mason City, and the surrounding communities of northern Iowa with expert audiology services since 1987. They're dedicated to helping patients improve their quality of life through better hearing. The patient-centered services for both children and adults include extensive diagnostic testing, hearing aid prescription and ongoing consultation. Hearing Associates regularly hosts charity drives that directly benefit local nonprofit organizations in their communities. Begin the journey to better hearing at Hearing Associates, PC. Schedule an appointment today online or call the Main Office in Mason City at 888.760.2032.